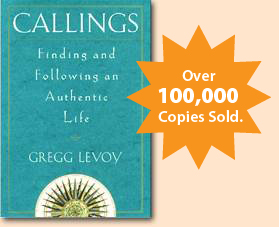 A Selection of

BOOK OF THE MONTH CLUB
QUALITY PAPERBACK BOOKS
ONE SPIRIT BOOK CLUB

Callings (Random House) is a passionate exploration of the search for authenticity, whether at work or at home, in our relationships or in service. In a style that is poetic, exuberant and keenly insightful, Gregg Levoy breathes contemporary life into the ancient subject of callings, presenting an illuminating and practical inquiry into how we listen and respond to our calls, and translate them into action.

Callings is currently being used as a text in:
The Doctor of Management Degree in Organizational Leadership, University of Phoenix


The course entitled "The Art of Meaningful Work", Indiana University.


A course called "Finding and Following Your Life's Calling," and a course called "Personal and Social Responsibility", both at Boston College.


The course entitled "Personal and Professional Identity and Renewal", Certificate Program in Spirituality, Health and Medicine at Bastyr University, Seattle, WA.


A course entitled "Spirituality and Leisure" at DePaul University's School for New Learning in Chicago.


A course entitled "Transformative Arts Seminar" at John F. Kennedy University near San Francisco


The Certificate Program in Individual and Organizational Coaching at the Hudson Institute, Santa Barbara, CA.


A graduate-level course in Career Counseling at Naropa University in Boulder, CO.


A course entitled "Career Development" at Red Rocks Community College in Denver, CO.


A weeklong retreat at Esalen Institute in California called Right Livelihood Quest, in which the book is "required reading."


The Chaplaincy Institute of Maine's 2-year program for Interfaith chaplains.


A course entitled "The Call to Ministry," in the Masters of Divinity Program, Unity Church, Kansas City, MO.


Callings is also rated among the "Top 20 Career Publications" by the Workforce Information Group (based on sales and usage).

---


ABOUT THE AUTHOR
Gregg Levoy is the author of Callings: Finding and Following An Authentic Life----hailed by Booklist as "Ravishing!"----and This Business of Writing (Writer's Digest Books). He has written for the New York Times Magazine, Washington Post, Omni, Psychology Today, American Health, Reader's Digest, New Age Journal, and many others, as well as for corporate, promotional and television projects.


A former adjunct professor of journalism at the University of New Mexico, and former columnist and reporter for the Cincinnati Enquirer and USA Today, he is the recipient of a 1st-Place writing award from the Associated Press, and a Genesis Award for "Outstanding Newspaper Commentary" for a New York Times Magazine essay.


He has been a visiting faculty at the University of California, University of Nevada, University of Arizona, and Portland State University, as well as faculty at many national writers conferences, including Southwest Writers Conference, California Writers Club Conference, Reader's Digest Conference, Haystack Program in the Arts, Taos Institute of Arts, Austin Writers League, Wyoming Writers Conference, and Willamette Writers Conference.


Also by this author: "This Business of Writing"